Events
5th Lisbon Conference | Chinese Music and Musical Instruments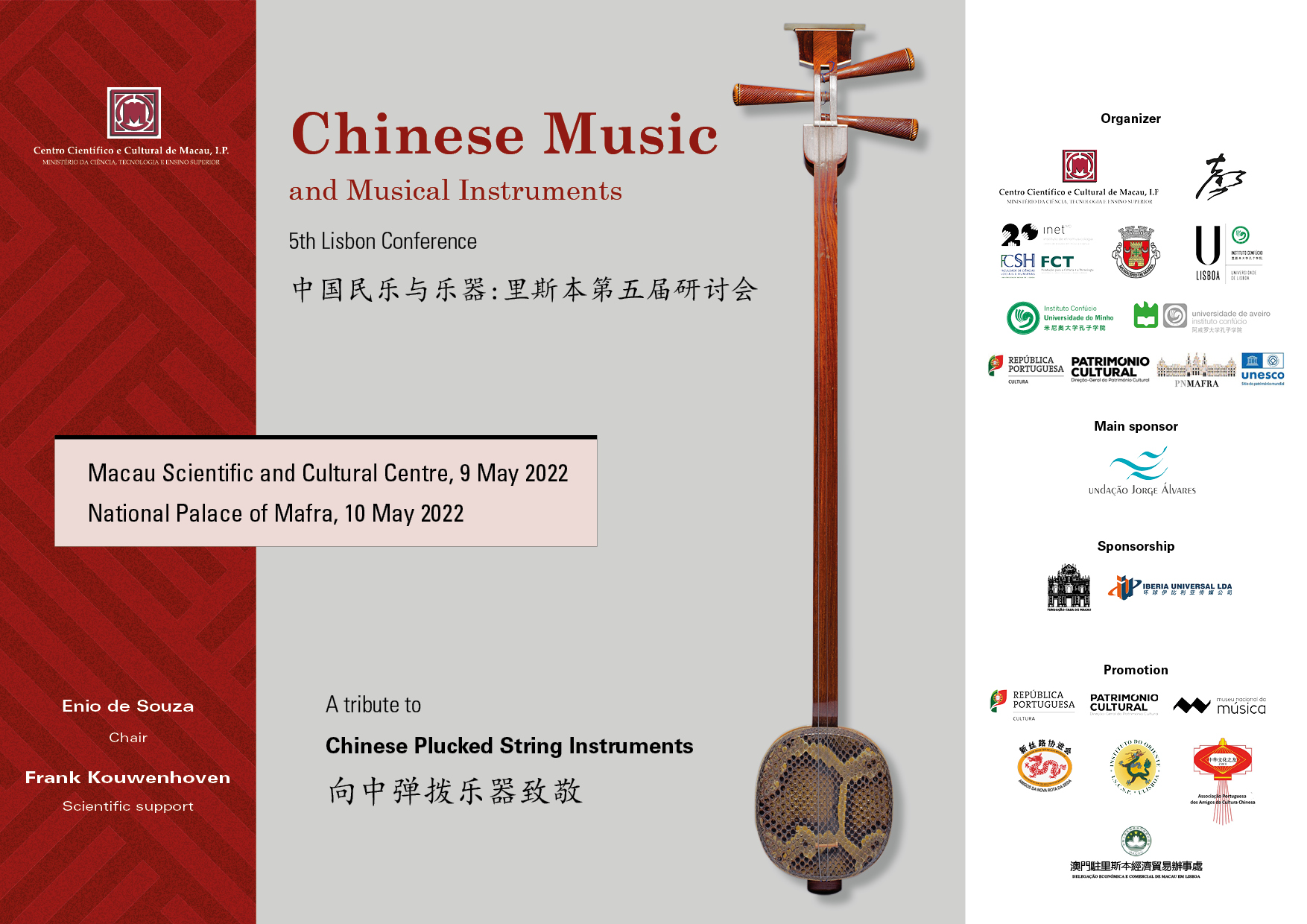 The Macau Scientific and Cultural Centre in Lisbon, 9 May
National Palace of Mafra, 10 Maio
The Macau Scientific and Cultural Centre in Lisbon (CCCM) and the Municipality of Mafra, in conjunction with other public and private entities, will hold the 5th Lisbon Conference: Chinese Music and Musical Instruments on 9 and 10 May 2022. The conference will take place at CCCM on 9 May and at the National Palace of Mafra on 10 May (programme attached).
We will be delighted to welcome distinguished ethnomusicologists, musicologists, musicians and calligraphers from seven countries to the conference, as well as twelve Portuguese academics, researchers and musicians. In addition to the presentation of scientific papers, there will a performance of Chinese music and calligraphy at the Macau Scientific and Cultural Centre on 10 May and the conference will close with a concert at the National Palace of Mafra featuring a diversified programme including songs performed in Patuá (Macau dialect) and Chinese plucked strings. The conference papers will be presented in English and the sessions, performance and concert will all be open to the general public.
The main objective of this conference since its first edition has been to raise awareness in academic circles, given the absence of teaching of this discipline at Portuguese universities, conservatoires and music academies. Moreover, it strives to highlight the importance of the introduction of the teaching of Chinese and Asian music and musical instruments in a performance context in ethnomusicology and historical musicology in Portugal in the near future. The dissemination of Chinese music and musical instruments among the general public is also a key ambition of the conference.
The Jorge Álvares Foundation is the main sponsor of this initiative. Since the first edition in 2016, the Foundation has recognised the importance of disseminating the sound art in China among academics and researchers in Portugal. Since the conference was first launched, the scientific support has been assured by CHIME - European Foundation for Chinese Music Research, based in Leiden, the Netherlands.
The conference did not take place in the previous two years due to the pandemic caused by the SARS-CoV2 virus.